Community and Business Leaders Announce Support for Jon Stehle for City Council
With the City Elections set for this Tuesday May 3, I am pleased to share that Mayor Scott Silverthorne, School Board Chair Toby Sorensen, and City Treasurer Tom Scibilia have joined community and business leaders from across the City in announcing their support of me for City Council.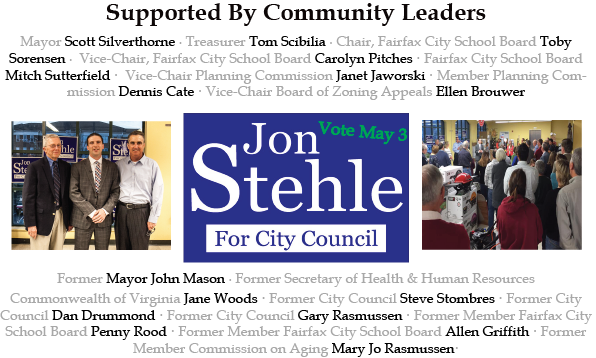 Joining them are current leaders including: Vice-Chair of the School Board Carolyn Pitches, School Board Member Mitch Sutterfield, Vice-Chair of the Planning Commission Janet Jaworski, and Planning Commissioner Dennis Cate. Former leaders are also announcing their support, including: former Mayor John Mason; former City Council Members Steve Stombres, Dan Drummond, Gary Rasmussen, and Allen Griffith; former Secretary of Health and Human Resources of the Commonwealth of Virginia Jane Woods; former Member of the Commission on Aging Mary Jo Rasmussen; and former School Board Member Penelope "Penny" Rood.
I am proud that we have organized events with businesses across the City, including our campaign kickoff event at Twin's Ace Hardware, a family skating event at Fairfax Ice Arena, and a breakfast at the historic 29 Diner.
I look forward to seeing everyone at the polls on Tuesday!
Share this post: