Signature Gathering Weekend
Signature Gathering Weekend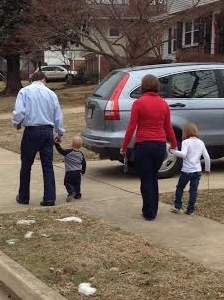 Team Stehle was out in force this weekend knocking on doors across the City of Fairfax. We had a great time meeting the voters and talking about the future of the City. I am very thankful to all our friends who took the time to introduce me to their neighbors.
One of my favorite responses when asking for a signature was "everyone deserves a chance to be on the ballot." I could not help but be proud to live in (and hopefully represent) a city where residents are willing to give everyone a chance. I was especially touched by the following conversation. "Of course I will sign, and by the way could you use a drink of water or do you need to use the facilities?" While I was good on both accounts at that moment, the willingness of someone to open their home was profound.
I am very grateful to each person who took the time to sign a petition and share their thoughts on the City. I am looking forward to turning in the signatures as soon as the City Government opens again - thanks Winter Storm Titan!
Share this post: